How to create a tag manually in Live Studio
How to create a tag in Live Studio
A tag is a video sequence that you can create from your live stream recording. You can define where it starts and ends in the timeline. Tags can be used as a visual indication to quickly spot important scenes in the timeline. You can also combine tags to create video clips.
1. Open your video with Live Studio
To access
Live Studio
In the Levuro web app:
in the

Media tab

, select the

Live stream

folder in the left menu.
Click on a live stream, a new page will open.
On the right section, select

Open in Live Studio
2. Create your tag(s)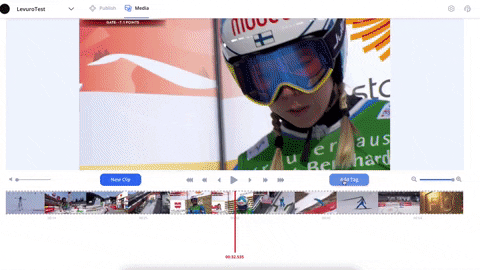 Under the video, click

Add tag
By default, you will see a video tag of 30 seconds in your timeline. To edit this default tag, drag the timeline where you would like your tag to start and click the

Set start icon

.
You can also define the end of your clip by clicking the
Set end icon
.
To be more precise, you can use the timeline zoom located under your video on the right.
Give a name to your tag and click

Save

.
Your tag is created, you will see it displayed on the timeline, and in the tag list on the left.
You can now create several tags, and combine them to create clips that you can publish to your social media platforms.
Learn how to combine your tags to create a video clip in this article.
Updated on: 26/01/2022